Back to work today.
95 unread messages in my exploding inbox, stopping troubles in my area and a mental dizziness I had never experienced before - jetlag, guessed right.
Didn't really matter, though. I'm feeling GRREAT with my pills. I'm feeling GRRRREAT, after our trip. My mind exploding with memories and my fingers tickling, as they would like to tell all the stories, so that you all could live them as well. So many things to say and so little time because, if I learnt something these days is exactly that I'm not the one who stays in and relaxes, but the one who kicks out the door every morning, early, energized, willing to breath, to walk, to feel, to see, to listen, to photograph EVERYTHING this huge world has to offer.
So I did. Too tired for the gym, solade lite och took a walk along Drottninggatan, where Xmas shines with chandelier splendour, down to H&M so I could get the dress to shine next weekend as well. The dress the tallestGirlEver who could actually speak swedish wore almost a week ago, in that Chelsea club I'd never forget.
Funny huh?
Less than a week ago, I went with Stina to a funny art opening at the
Mindy Wyatt Gallery
where everybody chatted about the Victoria's Secret Fashion Show afterparty which was taking place at the same time... Somewhere else in the big apple.
Fashion photography with FREE drinks!
We met tones of crazy people, from a frustrated artist with John Lennon glasses complaining about the flatness of the presented ouvre to growing swedish musicians and an entertainment lawyer (together with his best friend, the actor) who praised his attendance to THE party (and even promised to bring us in which, by the way, he never did)
Some supper at
Whole Foods
to get strength for what it was to come because...
With Madonna's toyboy (aka Jesus Luz) DJ-ing in
Thor
, the bar at the Rivington Hotel, in the Lower East Side... Who would had stayed there later than 22? It rained but we didn't care:
- I know the DJ, he will let us in.
Stina was right. Her friend came us and told the massive black wall working as doorman to let us in. But he didn't. Instead, he fetched us from one queue to the VIP queue, shorter but... Another queue after all. We waited, people came in. We waited, but didn't. The DJ came out again and asked the wall to open a breach for us. But he didn't... Instead, he started to SHOUT:
- LADIES AND GENTLEMEN... CLEAR UP THE FRONT LINE!! IT WILL NOT HAPPEN TONIGHT!!
So we walked next door and jumped the velvet rope (while the doorman talked with someone in a car) and broke into the
CV
, whose doors opened that night, for the first time:
- It's empty and, I hate the interior - you know, interiors are VERY important for me... - so let's go to the Juliet, where all these people are!
I was wet and tired. I was wet and cold but resisted to loose a night out in The City. So I followed my blonde companion into our yellow carriage and got west, to Chelsea and
Juliet Supperclub
.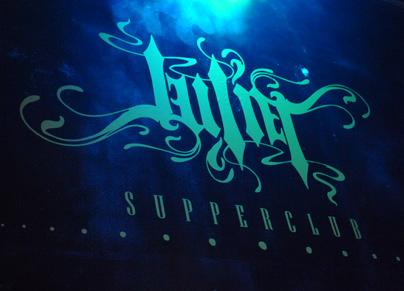 What a night man.
Remember the artist? She had a table where we could take this from. What? FREE drinks? You said FREE = GRATIS? Exactly.
The night works as I'm gonna tell you.
There's a promoter who cherry picks the people he wants to fill the bar with. The promoter has tables and gives them to people (like Santa, I know) so they can straight a pose and dance around. These magic tables have four bottles (vodka, orange juice, cranberry juice and water), two metallic bowls with ice and lemon respectively plus lots of glasses, straws and serviettes. Cool huh? Wait until you go to the bathroom where the woman will dry your hands, give you candy and even spray you with CHANEL, just to get a 1$ tip.
As I always tell Stina, she's the fairy who gave this Cinderella the nice dress and the carriage, so she could outshine the rest of the ball. I wasn't the prettiest, nor even the most drunk but believe me, the happiness outside my face shone brighter than the fullOfTinyMirrors floor we were destroying our heels with.
Nights out are definitely not always the same! It just takes the right mix of people and a drop of alcohol in the midst of great tunes to bring the magic out...